R-ISO-PLUG Insulation fixings
For fastening lightweight fixtures on insulated facades through the renders eliminating thermal bridging
Features and benefits
Unique construction of screw thread section provides support for wide variety of diameters, without limitation of screws' length.
Unique self-drilling point allow precise installation through any type of façade plaster, preventing from breaking its surface
No thermal bridging
Ribs on the internal surface of plate provide locking in surface during driving screws in and out and even surface of plug with substrate after fixing
Proper shape of TX/HEX socket provides stabilization during the process of driving in by providing necessary grip for the bit
Surface of the plate allows hiding installation hole and perfectly matches the surface of plaster layer, not deformating it
Can be installed with commercial drill/drive tool.
Product information
Product Code

Plug

Recommended screw diameter

Length

Plate diameter

Screw length inside plug

l

d

[mm]

R-ISO-PLUG-50

55

28

50

4,0 - 5,0

R-ISO-PLUG-80

85

28

50

6,0 - 7,0
Base material
Polystyrene (EPS) Boards

Mineral Wool Boards
Applications
Façade construction (ETICS)
Attachments to insulation
Installation guide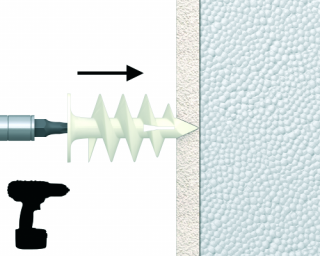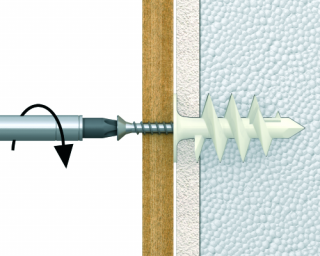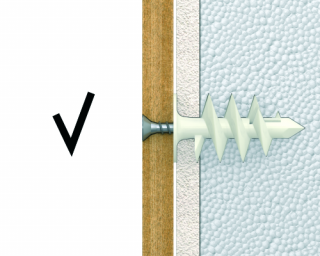 Drive R-ISO-PLUG into the insulation material (manually, or with an electric screwdriver) until installation depth reached.
Insert screw of required diameter into plug through fixture and tighten.
Fixtures are fixed with a proper screw diameter. R-ISO-PLUG-50 with diameter of the screw between 4-5mm and R-ISO-PLUG-80 with screw diameter 6-7mm.
Installation data
Size

Min. installation depth

hnom

[mm]

55

85

Min. substrate thickness

hmin

[mm]

60

100

Bite type

TX40

HEX 8

Fixing diameter

d

[mm]

28

28
Downloads
Need documents for other product? Visit our Technical Library.
go to library
Contact us to get information about product availability and its price
Something went wrong... Please try again.
Fill in the form with your details and send request for a R-ISO-PLUG Insulation fixings
Your request will be sent to our sales department. Please note this is not a purchase order.