ODWS Stainless steel self-drilling screws for timber
Stainless steel self drilling screw with reduced drilling point guaranteeing quick and firm installation in wooden substrate
Features and benefits
Stainless steel self drilling screw made ​​with BIMETAL
Hardened surface of the thread (flexible core). Corrosion resistant zinc coating has a thickness of no less than 12um. Shape and type of thread designed specifically for use in wood construction.
Self vulcanizing EPDM washer. Temperature and UV resistant. The special shape of the washer ensures proper seating of the sealing material on the outer cladding material fixture which guarantees a proper seal.
The drill bit is designed to provide quick and trouble-free installation in wooden construction. Sharp point of the drill prevents movement of the surface of the fixture.
Reduced drilling point ensures optimal tightness and correct hole diameter in thin metal sheets.
Contact us to get information about product availability and it's price
Something went wrong... Please try again.
Fill in the form with your details and send request for a ODWS Stainless steel self-drilling screws for timber
Your request will be sent to our sales department. Please note this is not a purchase order.
Base material
Timber
Applications
Profiled sheet to wood and aluminium
Composite panels to wood and aluminium
Installation guide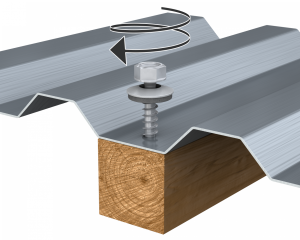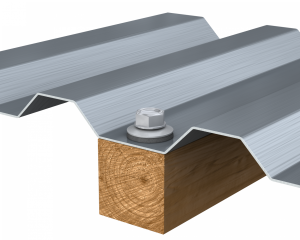 Screw must be installed at 90 degrees to substrate.
Special driver must be used.
Lowest torque setting on impact screwdriver to start.
Reduce speed when the washer starts to deform.
Use a cordless Impact screwdriver. Note: Never use a power drill.
For installation please use screwdriver of load capacity 1600 - 2000 rpm with regulated trogue.
Downloads
Need documents for other product? Visit our Technical Library.
go to library